John Roberts
Chair
John is Chief Fire Officer for West Yorkshire Fire and Rescue Service, with more 25 years' experience in the Fire and Rescue Service.
John joined Merseyside Fire Brigade as a Firefighter in 1997 and progressed through the ranks working operationally as a Leading Firefighter, Sub Officer and Station officer. In 2006 John was promoted to Station Commander with responsibility for several fire stations in Liverpool.
In 2008 John was seconded to the Department of Communities and Local Government, working within the Fire and Resilience Directorate.
John joined South Yorkshire Fire and Rescue in 2009 and worked in a variety of roles including District Commander for Sheffield and Barnsley, before being promoted to Area Commander, Assistant Chief Fire Officer and finally Deputy Chief Fire Officer.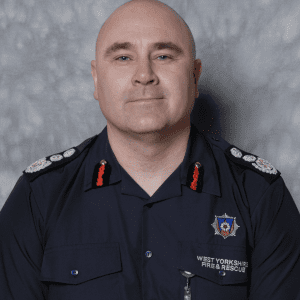 John joined the West Yorkshire Fire and Rescue Service on promotion to Chief Fire Officer in 2017. In addition to his Chief Officer role in West Yorkshire, John fulfils several national roles within the National Fire Chiefs Council (NFCC) including: Chair of the Operational Effectiveness group, Fires in Tall Buildings Group Chair, and National Resilience Command and Control lead officer.
Throughout his Fire Service career, John has enjoyed specialist operational roles as a Hazardous Materials & Environmental Protection Officer, Fire Investigation Officer, and Swift Water Rescue Technician.
The work of the committee
The Operation's committee aims to promote and lead the highest standards of operational performance in fire and rescue services.
Representatives from English fire and rescue service regions and the devolved administrations meet quarterly to discuss issues affecting the service as a whole and strategic areas of work. Representatives from organisations such as the National Police Chiefs Council, the Maritime and Coastguard Agency, the Home Office, CFRA Wales and HMI Scotland will also liaise with this committee.
The committee will:
provide National Operational Guidance, Hazard and Risk Control Statements and Standard Operating Procedures for UK fire and rescue services, with the support of governments
lead on the creation of national hubs to improve efficiency and collaboration
drive operational research and development
work toward standard training specifications to complement National Operational Guidance
develop safe systems of work for all FRS staff by working with organisations such as the Environment Agency and the Health and Safety Executive
work with all stakeholders to lead the UK fire and rescue service to further improve interoperability with other emergency services and Category 1 and 2 responders
provide professional advice to UK governments on National Resilience issues, work with governments and partners to identify and close any gaps between the National Risk Assessment and local Integrated Risk Management Plans
lead continuous improvement of National Coordination and Advisory Framework (NCAF) for major incidents
support the embedding of the Joint Emergency Services Interoperability Principles in to FRS Operational Doctrine and day to day business
provide strategic direction in relation to call handling, mobilising and other relevant control room functions as well as technical communications infrastructure to support all aspects of fire and rescue service operations
Workstreams
National Resilience
Operational Communications
Operational Effectiveness
Health & Safety
Interoperability
National Operational Guidance
Technical Response
PPE (personal protective equipment) Clothing
Regions/Devolved Administrations