National Sprinkler Week
The National Fire Chiefs Council (NFCC) would like to see a greater inclusion of sprinklers in the built environment in the UK.
The benefits of sprinklers as part of an appropriate package of fire safety measures mean they:
save lives and reduce injuries
protect property
reduce the impact of fire on the environment
reduce interruption to UK businesses
assist search and rescue operations and reduce the risk to firefighters
increase community resilience
preserve heritage.
The aims of the campaign are to:
spread an awareness of the facts about sprinklers
promote a greater understanding of fire sprinkler systems in providing business and social continuity, mitigating the effects of fire with environmental and economic cost benefits
support fire and rescue services to promote sprinklers in their communities, businesses and local authority forums, providing a national picture to assist in promoting fire sprinkler systems
The target audience is people who have a responsibility for developments which care for the most vulnerable people in our communities and those whose developments or loss of them impact the social and economic wellbeing of our communities.
Fire sprinklers are widely recognised as the single most effective method for fighting the spread of fires in their early stages. NFCC and the National Fire Sprinkler Network (NFSN) carried out research to investigate the effectiveness and reliability of sprinkler systems. They found that sprinkler systems:
Operate on 94% of occasions, demonstrating very high reliability.
When they do operate, they extinguish or contain the fire on 99% of occasions.
In both converted and purpose-built flats, sprinklers are 100% effective in controlling fires.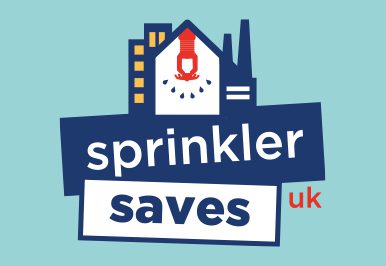 NFCC is continuing to work closely with the British Automatic Sprinkler Association (BAFSA) and we are actively encouraging fire services to input case studies to the Sprinkler Saves website.
The website aims to provide a central and comprehensive record of fire incidents where sprinklers have played their essential role in suppressing or extinguishing fire.