The work of the committee
The People Programme is committed to ensuring that the public have the most capable fire and rescue service and that the cultural values and behaviours make services great places to work.
The Programme will:
lead on the creation of national hubs to coordinate support services for human resources in order to improve efficiency and collaboration
promote the further development and skills of our workforce and create a network for sharing experience and insight
champion equality, diversity and inclusion within the fire and rescue service
work with the fire and rescue service employers, workforce, unions and others to promote the values of the fire and rescue service and encourage an open, flexible and inclusive culture
explore new ways to recruit and foster talent in the fire and rescues service at all levels and from a wide range of backgrounds
discuss how we work with national negotiating structures for terms and conditions to allow greater flexibility and allow positive changes made at a local level to be rolled out more widely
develop UK approaches to training, learning and development
Work Streams
Duty Systems, including retained firefighters
HR Policy development
Health & Wellbeing – Research and Strategy development
Equality, Diversity & Inclusion
Learning & Development (including Driving up Standards)
Recruitment
Enabling development of competence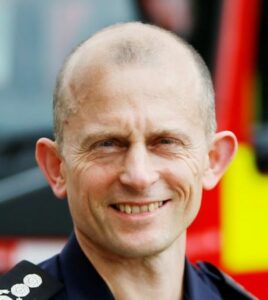 Rob MacDougall
Chair
Rob MacDougall is the Chief Fire Officer of Oxfordshire Fire & Rescue Service.
Having joined the sector in 1998, Rob has enjoyed a wide and varied career in Oxfordshire, and even took a short secondment with the Ghana National Fire Service, before becoming Director of Community Safety and Chief Fire Officer for Oxfordshire in 2019.
Rob continues to support NFCC work, he is the Category sponsor for ICT for the Strategic Procurement Hub, chairs the End Point Assessment Partnership between Cornwall FRS and NFCC, and is the NFCC representative on the Fire Aid Steering Group. He also sits as an advisor on the NJC Advisory Forum.
His new venture as People Programme Executive will see him defining the next People Strategy, providing a direction of travel for the sector over the next few years.