Chair: Neil Odin
Chief Fire Officer, Hampshire & Isle of Wight Fire and Rescue Service
Neil has worked in the British Fire and Rescue Service since 1991 and has served in three Services, becoming Chief Fire Officer of Hampshire & Isle of Wight Fire and Rescue Service in January 2018. Neil is the UK National Fire Chief's Council Chair for the Prevention Committee, supporting Fire Services across the nation to prevent fires and other emergencies
In addition, he is Chair of the United Kingdom Rescue Organisation (UKRO) which brings together the UK's rescue services to develop their skills and improve rescue standards.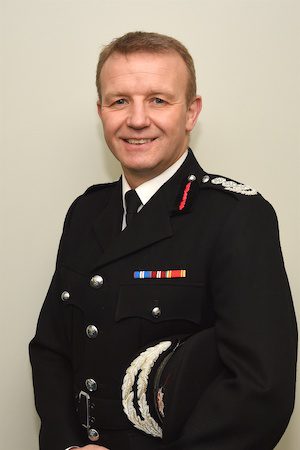 The work of the committee
The Prevention Committee aims to promote and support a range of fire service initiatives that tackle social issues and lead to safer, healthier and more resilient communities.
We will seek to do this by creating new and developing existing partnerships, sharing relevant information and data to deliver wider social and public value. We will proactively drive and support the NFCC calendar of campaigns and events.
The Committee's objectives are to:
Reduce the risk to vulnerable people within the home environment
Raise awareness of the risk of harm and associated prevention and protection measures to improve the safety and citizenship of young people.
Improve road safety and reduce collisions, deaths and injuries on the road network
Improve water safety awareness and reduce the number of drownings
The Strategic Health Group also sits under the Prevention Committee. It seeks to develop relationships, initiatives and evaluations to support fire and rescue services in delivering integrated fire and health interventions, while demonstrating positive outcomes from local fire and health projects.
Promote the sharing of innovation and good practice through the production of up-to-date guidance and case studies to influence the development of local fire and health and social care relationships
Outline people and organisational development objectives that support FRS's to deliver 'Safe and Well' visits and other interventions
Commission the development and evaluation of outputs to demonstrate positive outcomes from local Fire and Health projects
Promote a coordinated approach to data sharing, risk stratification and targeting
Challenge current limitations, perceived or otherwise, that prevent or restrict the involvement of Fire in a Health and social care settings
Work Streams
Road Safety: Dan Quin
Water Safety: Dawn Whittaker
Home Safety: Rick Hylton
Carbon Monoxide: Mike Porter
Electrical Safety: Charlie Pugsley
Volunteers

Arson/Wilful Fire-raising/Deliberate fire setting

: Robin Turnbull
Tobacco, smoking and vaping: Sarah Hardman
Children and Young People: Phil Garrigan