NFCC coordinates and supports a number of national safety initiatives. Fire and rescue services across the country, and supporting partners, deliver these campaigns which aim to raise public awareness and reduce preventable deaths.
Fire Kills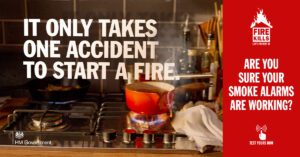 The Home Office, in collaboration with NFCC and local fire and rescue services in England, runs the Fire Kills campaign to keep people safe in their homes.
The campaign is aimed at raising awareness of everyday fire risks that are present in the home and encourages all householders in England, particularly vulnerable people, to test their smoke alarms regularly.
As part of the campaign monthly toolkits are and a campaign calendar are produced to support fire safety messaging.
Fire and Rescue Campaign Calendar 2023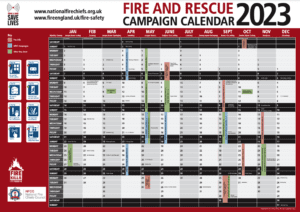 Fire Kills Monthly Toolkits 2023
National Roads Partnership
NFCC works closely with other organisations to improve road safety, reduce collisions, deaths and injuries on the road network. To ensure support for fire and rescue service road safety initiatives and to support the work of other organisations, NFCC produce the National Roads Partnership Calendar alongside the National Police Chiefs' Council (NPCC) and the National Roads Policing Intelligence Forum (NRPIF). Find out more about the work of NFCC's Road Safety Group here