UK fire and rescue (FRS) prevention and protection professionals have been recognised at NFCC's annual Celebrating Prevention and Protections Awards.
The Awards were held as part of NFCC's Prevention and Protection Conference which was recently held in Derby.  More than 150 fire service colleagues attended the two-day event, which showcased the incredible campaigns, initiatives and policy influencing, supporting fire and rescue services to keep communities safe.
Gavin Tomlinson, NFCC's Executive Lead for Protection, and Neil Odin, NFCC's Executive Lead for Prevention, opened the Conference summarising some key achievements over the last 12 months, and emphasising the importance the HMICFRS is putting on Protection and Prevention activities.
It was a bitter-sweet start to the Conference with the announcement that after four years, Neil Odin will step down as NFCC's Executive Lead for Prevention at the end of November.
Commenting Neil Odin, said: "It's been a privilege of a lifetime to lead Prevention activities on behalf of NFCC for the sector.  As a team we've always shared a true belief that we can make a difference, and only have to look back to see how far we've come as a sector even just in the last few years."
A highlight of the two-day conference was the now annual Celebrating Prevention and Protection Awards. FRS colleagues and teams working across Prevention and Protection activities were nominated by their peers in one of five categories. The nominations were judged by a panel of NFCC and independent judges and winners were announced as part of the conference. Congratulations to all those who won, were highly commended or were finalists.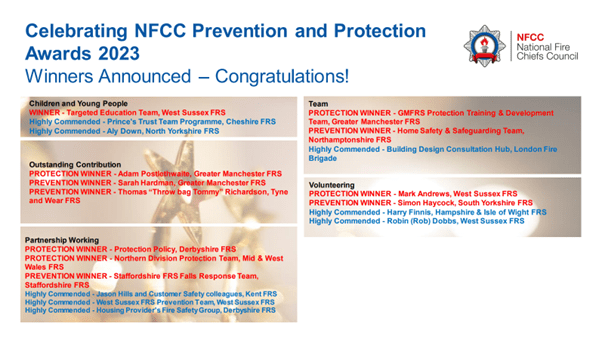 Throughout the two-day conference Prevention and Protection leads ran workshops to address some of the key issues FRSs are facing. From Safeguarding to Emerging Energy Technology; Integrated Risk Management planning to Fire Standards; Early Intervention to Road Safety, all topics were on the agenda and discussed, providing a great opportunity to share best practices and experiences with other FRS colleagues from across the country.
To round up an excellent conference, a raffle raised £940 for The Fire Fighters Charity. The raffle was arranged by NFCC's Head of Prevention Sarah Brown, who will be running the London Marathon in April in aid of the Charity.  Her fundraising efforts now top £2300 and will continue right up until the Marathon! You can read more about Sarah's London Marathon efforts at her just giving page: https://www.justgiving.com/fundraising/sarah-brownnfcc