Published 3 November 2023
Government launches Fire Kills national advertising campaign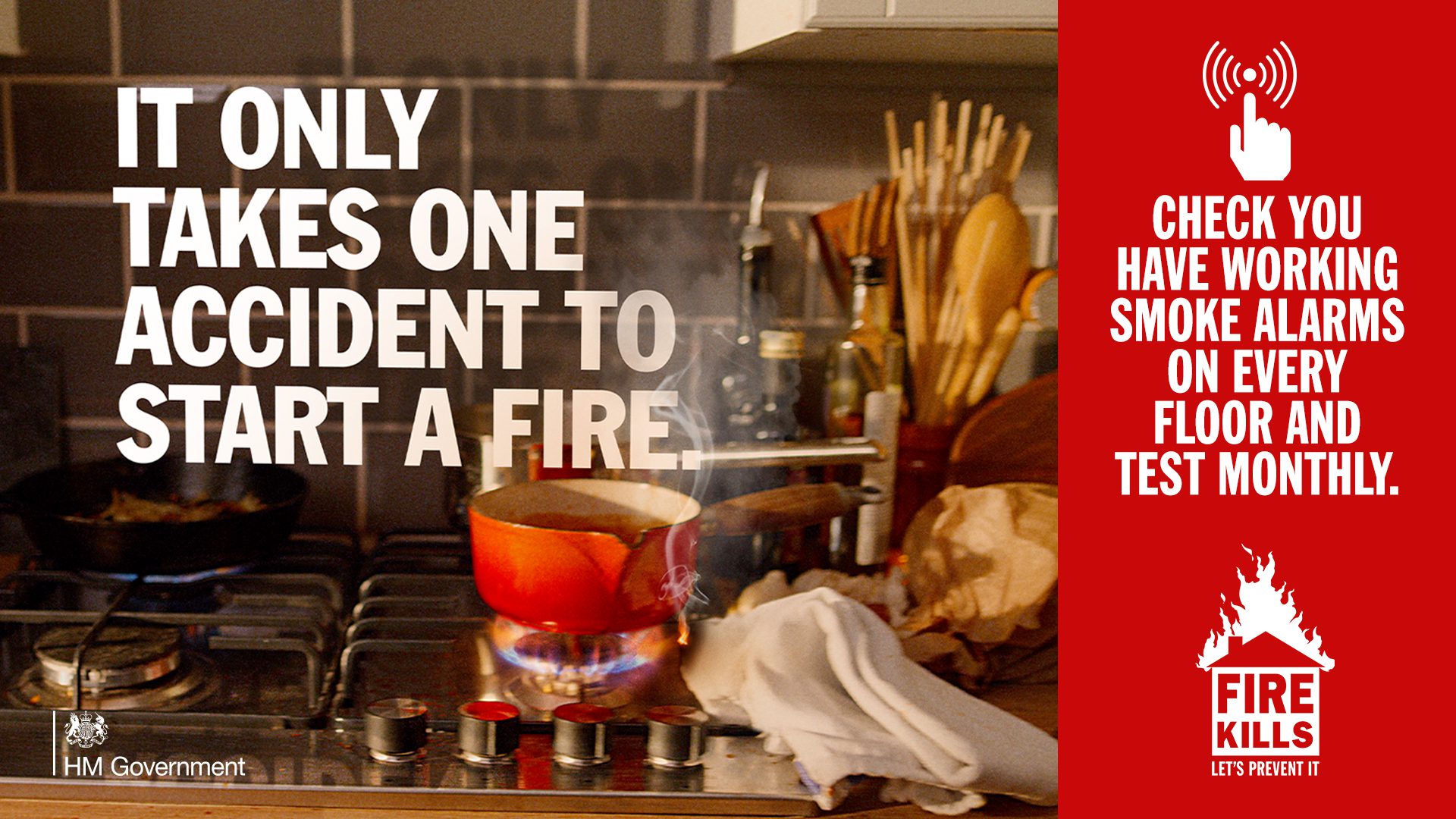 This week, the Home Office has launched the latest wave of national advertising, as part of the Fire Kills campaign, to remind people of the need to have smoke alarms on every floor of their homes and to test them monthly.
The national campaign for England is planned, developed, and delivered with support from local fire and rescue services and the National Fire Chiefs Council (NFCC).
Mark Hardingham, Chair of the National Fire Chiefs Council, said: " We are committed and delighted to continue working closely with the Fire Kills campaign. It's an important part of the work of NFCC and Fire and Rescue Services to reduce injuries and fatalities from fire.

"By providing the simple advice to install and test smoke alarms regularly, we can help protect the most vulnerable and their families from the devastating impact of fire in the home."
To influence wider fire safety behaviours, the advertising presents a series of small accidents that can lead to a fire. The TV advert will run on video on demand channels, such as All4 and ITVX, takes you around a home to illustrate how one little accident could very easily escalate into a catastrophic fire. Shortened versions of the TV ad can also be seen across paid social media, accompanied by a radio advert across linear and digital audio channels.
The campaign is live from the end of October and run for two-week bursts in November/December, followed by one-week bursts in January-March.
The Fire Kills campaign is, however, much more than advertising. The Fire Kills campaign page plays host to a recently implemented online home fire safety check tool. Developed as a joint initiative between NFCC, Fire Kills and Safelincs it allows anyone to receive fire safety advice tailored to them and their living arrangements just by answering a few simple questions.
But, if you only do one thing today, please follow the campaign's advice: make sure you have a smoke alarm on every floor in your home and test them monthly!