Published 25 October 2023
National Fire Chiefs Council calls for improvements to product safety laws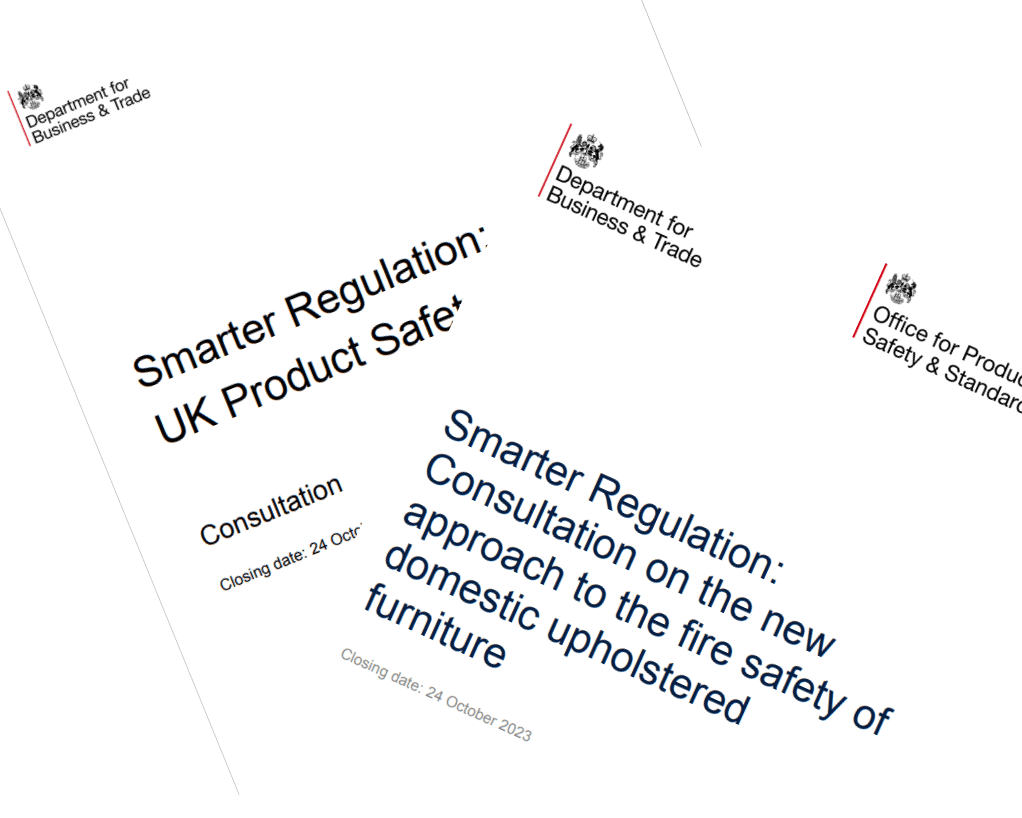 The National Fire Chiefs Council (NFCC) has today published its responses to two new government consultations which seek to modernise product safety legislation. The consultations have been undertaken by the Department for Business and Trade and look at the regulatory framework for product safety and fire safety in domestic upholstered furniture.
Charlie Pugsley, NFCC Lead for Electrical Safety and Fire Investigation, said: "The consultations are an important step in improving product safety laws.

"NFCC and fire and rescue services have seen the impact of outdated laws on fire safety in the modern environment. It is time for change to protect consumers no matter where or how they buy products in the UK."
The Smarter Regulation: UK Product Safety Review consultation looks at the UK's product safety framework to protect consumers and help businesses bring new and innovative products to market.
NFCC's response drew from learning from the Grenfell Tower fire and the expertise of fire and rescue services in construction product safety. In the response NFCC highlights recommendations made in two Independent Reviews, Dame Judith Hackitt's 2018, Building a Safer Future, and 2023's An Independent Review of the Construction Products Testing Regime, which included the need for increased activity from regulatory bodies, improved traceability, and the application of centralised systems to products more generally.
The current system for building regulations has already been described and accepted by the Government as 'not fit for purpose'. NFCC has, therefore, recommended that caution be exercised with regard to "reducing business burdens" with the potential to introduce even more unknown and untested products into places where people live, work and play.
Product development and innovation can outpace safety standards, and the full risk of new and innovative products may not be understood until much later. NFCC supports the drive to encourage innovation and support decarbonisation ambitions, but it must not come at an increased safety risk. This is a real concern for fire and rescue services; London Fire Brigade, for example, has reported that in 2023 it has been called out to an e-bike fire approximately every two days. They are the fastest-growing fire trend in London.
Another key area of concern for NFCC is online marketplaces, and clarity is needed regarding their responsibility in the realm of product safety. NFCC and fire and rescue services would welcome legislation to prevent the sale of unsafe, unregulated products that do not meet UK safety standards. Revised regulations and an appropriate system should ensure that there is accountability for all products sold in the UK, and NFCC is reassured to see such risk incorporated into the consultation proposals. However, further detail is needed to demonstrate how this would be managed, resourced, and enforced.
The Smarter Regulation: Fire safety of domestic upholstered furniture consultation looks to update regulations to protect the public from injury and death arising from flammable furniture, taking into account modern-day hazards and risks.
NFCC agrees that a new approach is needed to ensure that domestic upholstered furniture continues to be fire-safe, and to ensure high levels of consumer protection in the modern home.
NFCC supports the regulations which enable a reduction in the use of Chemical Flame Retardants and new regulations around labelling which will benefit the consumer and enable better enforcement by improving traceability coupled with the increased time available to take legal action in the case of non-compliance.
NFCC welcomes OPSS's proposal to play a central coordinating role in the regulatory regime, which we hope will mitigate some of the resourcing pressures faced by Trading Standards.
However, NFCC believes that the modern approach must be kept under review to ensure that fire safety is not compromised. An 18-month transitionary time frame should have the ability to be extended in case of delays in this process. NFCC also suggests that a three-year review clause would be more appropriate than the five years suggested in the proposals, to ensure that safety standards are maintained, and any emerging fire risks are considered.
NFCC's responses were developed in consultation with our members from across the UK fire and rescue services and demonstrate their expertise and competence with the subject matter.
NFCC's submissions to the consultations can be viewed here:
New Approach to the Fire Safety of Domestic Upholstered Furniture in the UK