NFCC Protection Engagement Forum, 2023
28 – 29 March, London

 
The two-day Protection Engagement Forum brought together Protection colleagues from across the UK to network and share expertise. The Forum was attended by over 160 fire and rescue service Protection staff, as well as external partners and NFCC employees. The Protection Awards were also held during the event. 
Gavin Tomlinson, Chair of NFCC Protection, opened the Forum with a strategic overview of the Protection sector. The day continued with presentations from NFCC and external partners, such as the Institute of Fire Engineers on topics including risk management, protection uplift grants, competency, and an enforcement deep dive.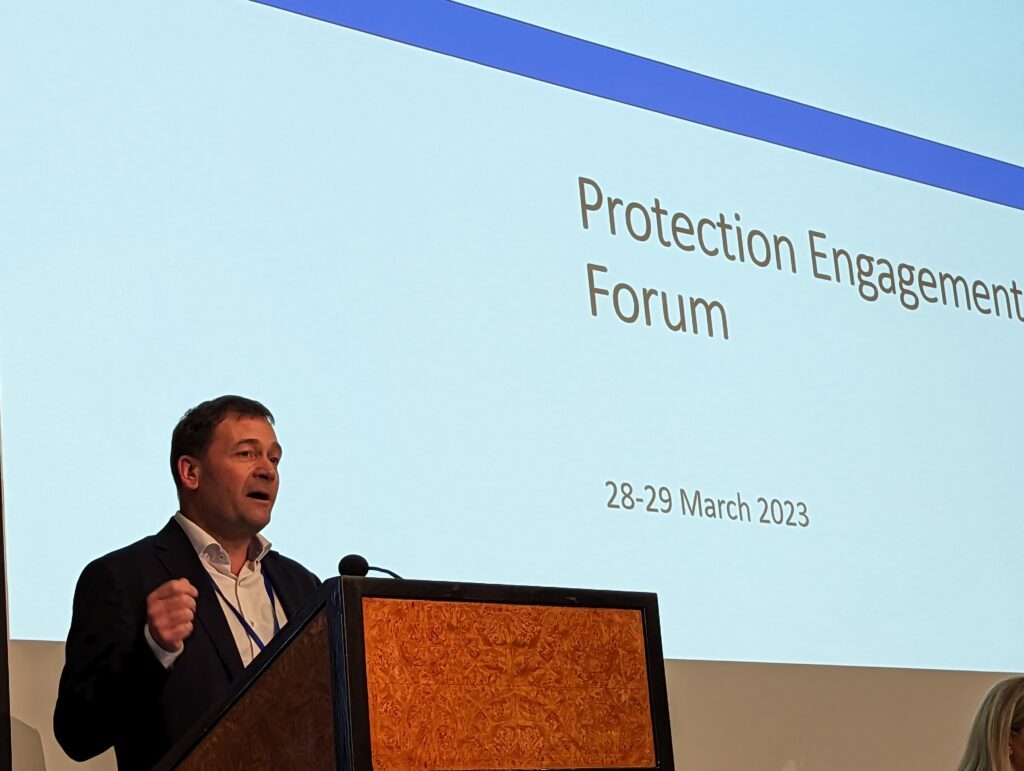 We also had a lively panel discussion between the Health and Safety Executive (HSE), Local Authority Building Control (LABC), and NFCC on the new Building Safety Regulator. Then we heard from Lorna Stimpson, LABC Chief Executive, about the collaboration between FRSs and LABC. 
The second day began with an insight into fire safety and the media led by Catherine Levin, Editor of Emergency Services Times and Nick Coombe, Head of Protection, NFCC. Focusing on the Grenfell Tower tragedy, they also discussed how the media reports on fire and rescue services and how the role of specialist fire journalists has been created since the disaster. 
The audience then heard talks from Roy Wilsher, HM Inspector of Fire and Rescue Services; Jonny Murphy, Head of Enforcement Strategy, Remediation Policy Directorate at Department of Levelling Up Housing & Communities; Zoe Wilkinson, Deputy Director, Fire Safety Unit, Home Office. NFCC's Dan Daly, Head of Continuous Improvement, brought the Forum to a close by leading a discussion on the future direction of NFCC.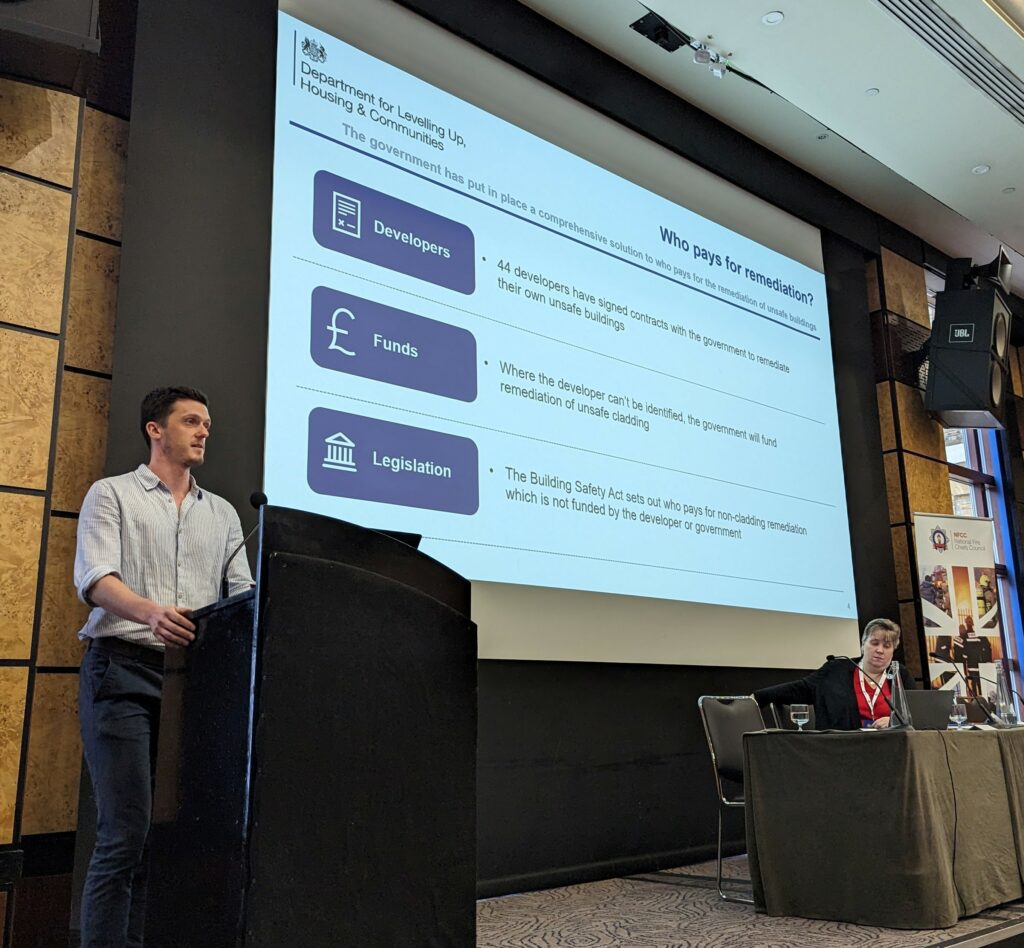 Thank you to everyone who attended this year's Protection Engagement Forum, and for participating in wide-ranging discussions and asking many thought-provoking questions. 
NFCC Protection Awards 2023
The NFCC Protection Awards ceremony was held on 28 March. The awards were established to recognise and celebrate the exceptional work and achievements of Protection teams nationwide. FRSs responded enthusiastically, with 36 nominees from across the country competing in three categories: Outstanding Partnership Working, Outstanding Innovation, and Outstanding Contribution.  
Congratulations to our winners, and well done to all those nominated.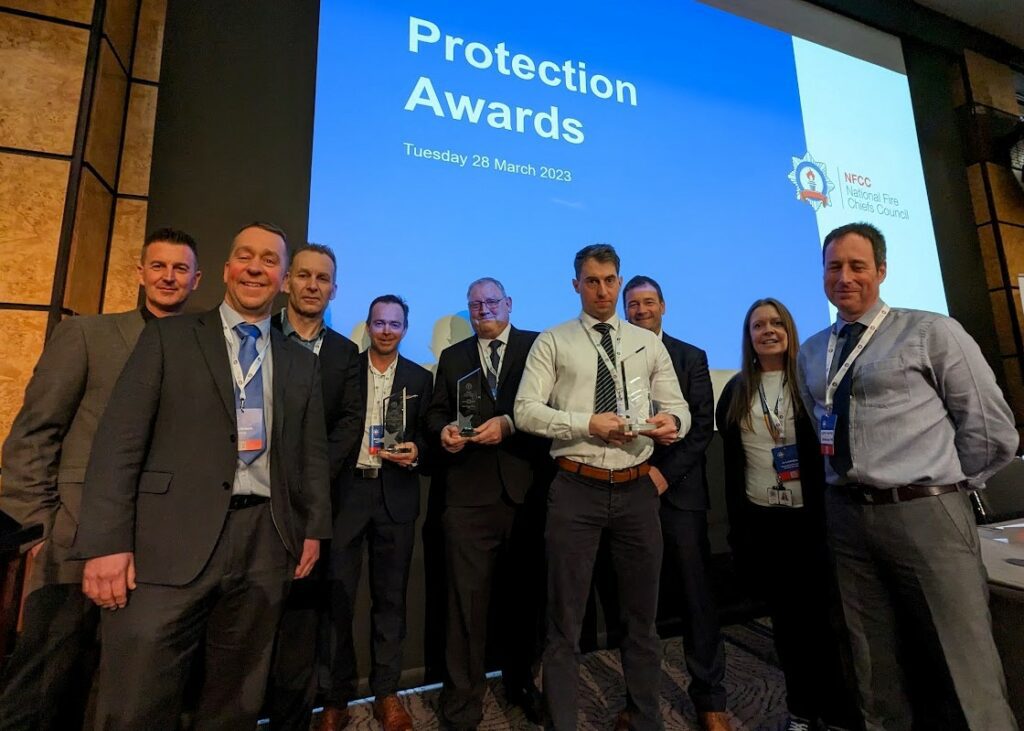 Winners
Outstanding Partnership Working Award:
West Midlands Fire Service Protection Team
The judges were impressed by the team's role in implementing the Safety and Security Strategy, resulting in a successful execution of Birmingham 2022 Commonwealth Games.
Outstanding Contribution Award:
West Yorkshire Fire and Rescue Service, Chris Smith
The judges were impressed by the impact Chris has had both in his community and on a national scale.
Outstanding Innovation Award:
Derbyshire Fire and Rescue Service, Protection & Risk Information Teams
The judges were impressed by the team's involvement in the launch of the Risk Based Inspection Programme, which resulted in improvements in fire safety matters for high-risk premises.
Finalists and nominees

 
Outstanding

Partne

rship

Working Award
Finalists
Derbyshire Fire and Rescue Service, Station Manager Rob Leverton
Suffolk Fire and Rescue Service, Impact Day Project  
Nominees
Merseyside Fire and Rescue Service, Sefton Council Environmental Agency and S Norton & Co Partnership  
Hertfordshire Fire and Rescue Service, HP Team; Derbyshire Fire and Rescue Service, South Area Protection Team  
Oxfordshire County Council Fire and Rescue Service, PAS Team 
Devon and Somerset Fire and Rescue Service, Building Risk Review Team  
West Sussex Fire and Rescue Service, PAS & Business Engagement Team 
Nottinghamshire Fire and Rescue Service, Nottinghamshire City Council Environmental Health Team Partnership  
East Sussex Fire and Rescue Service, Discovery Project 
Kent Fire and Rescue Service, Building Safety Team 
London Fire Brigade, Transport Liaison Group 
Greater Manchester Fire and Rescue Service, NFCC Northwest Protection Group
Outstanding Contribution Award
Finalists
Gareth Steele, London Fire Brigade 
Roger Brason, South Yorkshire Fire and Rescue Service
Nominees
Merseyside Fire and Rescue Service, Building Risk Review Team 
West Sussex Fire and Rescue Service, Hannah Boyns 
Norfolk Fire and Rescue Service, Sonny Garrett 
Surrey Fire and Rescue Service, Jay Beaver, Martin Gaule and Mohammed Taher 
Kent Fire and Rescue Service, Paul Grimwood and David Aldridge 
Greater Manchester Fire and Rescue Service, Adam Postlethwaite 
Outstanding Innovation Award

 
Finalists
Julie Springett, Hertfordshire Fire and Rescue Service 
Rory Searle and Lancashire Fire and Rescue Service, Protection Department  
Nominees
Merseyside Fire and Rescue Service, Grenfell Tower Phase 1 Recommendations Project Team  
Derbyshire Fire and Rescue Service, Protection Pathway 
Cheshire Fire and Rescue Service, HQ Protection Team 
Nottinghamshire Fire and Rescue Service, Fire Protection Team 
East Sussex Fire and Rescue Service, Legal and Consultation Team 
Kent Fire and Rescue Service, Risk Information Team; London Fire Brigade, Enforcement Team